We offer complete car care service from routine dealer recommended maintenance to complete diagnostics and full service auto repair. We know that our reputation is built "one customer at a time" and we appreciate your business.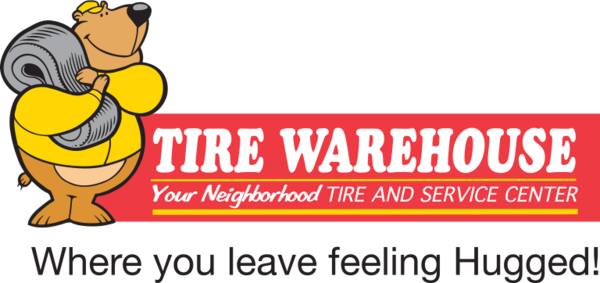 Its been the aim of Tire Warehouse over the last 40 years to deliver maximum customer satisfaction - the highest level of quality auto repair work, tires, and professional service.
We are family owned and operated and we are very relationship oriented - we measure our success by the the friends we make. In effect, "if you come into Tire Warehouse and don't get a hug, or leave not feeling hugged, we didn't do our job". You can always expect to receive prompt and courteous attention from our staff. This includes their commitment to keeping you fully informed about the work being performed on your vehicle while it is in their hands.
Today's vehicles are controlled by on board computers that monitor almost everything. As such, having an experienced and well-educated staff is a must in today's age of car care. Your vehicle will be repaired using properly-trained ASE Certified Technicians, modern well-maintained equipment, and quality parts. Having the best people fixing cars is important because our new and old friends rely on us to do it right the first time.
Tire Warehouse offers complete auto and engine repair on foreign or domestic vehicles, combining their top-notch service with the reassurance that customers have long appreciated.
We are a member of the Tire Alliance Groupe (TAG), which is the largest tire-buying co-operative in the US. This buying partnership puts us on a level playing field for pricing with our largest competitors. We will not be beat on price!
Even changes in tire technologies are fast paced and require a great deal of education for our tire technicians. Who would have ever guessed that tire technicians would be programming tire pressure monitors, filling tires with Nitrogen to 97%, torquing lugs nuts to exacting specs, and operating variation force balancer's - all in the execution of a single 4-tire installation job.
Details are important at every level, and our staff is hand-picked to be thorough. We follow the guidelines of the Car Care Council, ensuring top-notch service for anyone setting foot in the store. The Car Care Council is a national non-profit organization established to educate consumers about the benefits of proper vehicle care, maintenance, and repair.

The Magneson Moss Warranty Act legislates that having an independent repair facility perform proper repairs or maintenance on your vehicle does not alter or void your car's warranty. This act opened the door for our shop to take over responsibility for the entire vehicle, including all periodic preventative maintenance specified by the manufacturer.
Our repair facility is also an internet hot spot.
Tire Warehouse is located at 250 N. Park Boulevard, just north of downtown Lake Orion. Call (248)693-1234 for more information.
Store hours are 8 a.m. to 6 p.m. Monday through Friday and 8 a.m. to 3 p.m. on Saturday. Drop off is available on the east side of the building after hours. Towing, courtesy cars, and shuttles are also available.